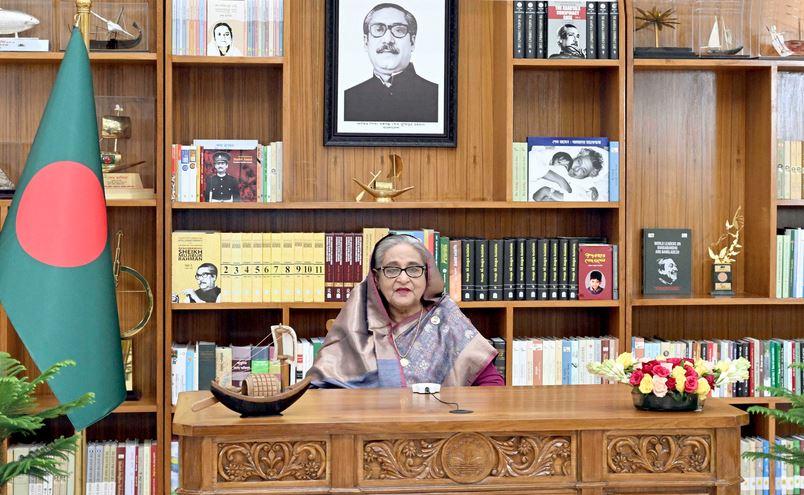 Prime Minister Sheikh Hasina called for collective efforts to ensure immunisation for all children across the globe. In a video address, the Honourable Prime Minister asked world leaders to support and follow Bangladesh in aiming to raise 'Generation ImmUnity' [1]. She said in her video statement, "We must work together to make sure that all children around the world are immune from deadly communicable diseases," in June at Gavi's Global Vaccine Impact Conference in Madrid [2]. 
The conference was organised by Gavi, the Vaccine Alliance, to mark its milestone of vaccinating over one billion children with life-saving vaccination through its programmes since the start of the millennium and thus raising a Generation ImmUnity. Gavi used the milestone celebration also to look at the future and the power of innovation to ensure immunisation for all children. Its target is to vaccinate 300 million more children, between 2021 and 2025, having reached 130 million children during the last two years [3].  
Bangladesh has made significant strides in ensuring that children receive life-saving routine vaccines. Gavi lauds the country as an immunisation leader, demonstrating the resilience of its immunisation system by maintaining high coverage of 84% for routine immunisation during the Covid-19 pandemic [4]. The Prime Minister emphasised that  Bangladesh is prioritising the immunisation needs of all children, regardless of their socio-economic backgrounds. 
"Our government has updated the National Immunisation Policy with a focus on equity and social justice". The government's recent update to the policy underscores its political will to ensure that all children are entitled to a healthy life.  Acknowledging this political commitment, the Honourable Prime Minister of Bangladesh received the "Vaccination Hero" Award in 2019 from Gavi, the Vaccine Alliance.  Bangladesh, in turn, recognises the instrumental role of longstanding support from Gavi since 2001 in expanding the country's EPI programme and strengthening its healthcare system. 
The partnership in immunisation between Bangladesh and Gavi is further strengthened with the recently initiated Country Learning Hub project on Immunisation Equity in Bangladesh.  The main focus of the project is to reduce the number of zero-dose and under-immunised children in Bangladesh. For Sheikh Hasina the Country Learning Hub project is a step in the right direction to achieve Generation ImmUnity and to ensure that all children in Bangladesh receive the 'great gift of immunisation'. 
References:
 Gavi, the Vaccine Alliance. Madrid conference marks reaching over 1 billion children vaccinated, reviews progress and resolves to tackle challenges [Internet]. Press release Gavi.org. (2023, June 15) [cited 2023 July 13]. Available from: https://www.gavi.org/news/media-room/madrid-conference-marks-reaching-over-1-billion-children-vaccinated
BSS. PM Hasina calls for ensuring immunization of all children across the world [Internet]. Dhaka Tribune. (2023, June 15) [cited 2023 July 12]. Available from: https://www.dhakatribune.com/bangladesh/2023/06/15/pm-hasina-calls-for-ensuring-immunization-of-all-children-across-world
Gavi, the Vaccine Alliance. Raising Generation immUnity. The Mid-Term Evaluation Report 2023. (2023) [cited 2023 July 14] Available from: https://www.gavi.org/sites/default/files/investing/funding/resource-mobilisation/MTR23_Report_FULL_eng.pdf
84pc Bangladeshi children got vaccines by age of 12-months during pandemic: Unicef [Internet]. The Daily Star. 2023 [cited 2023 Jul 27]. Available from: https://www.thedailystar.net/news/bangladesh/news/84pc-bangladeshi-children-got-vaccines-age-12-months-during-pandemic-unicef-3301811