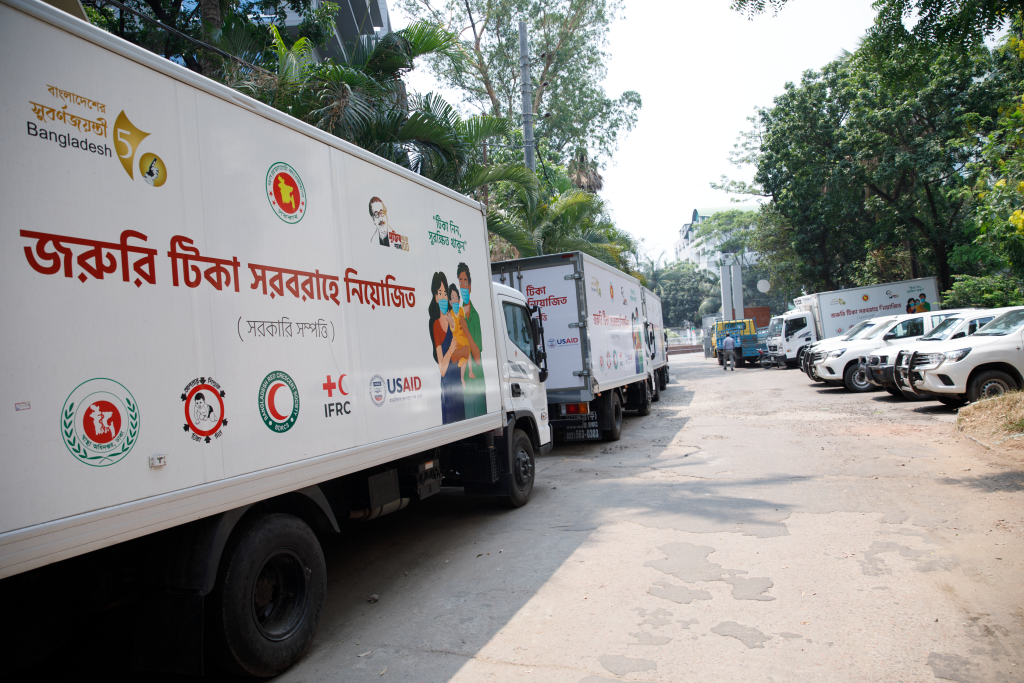 Gavi, the Vaccine Alliance, recently announced to extend its support to Bangladesh  Expanded Programme on Immunization (EPI) till 2029. The present collaboration will end in 2026. Members of parliament responded positively to Gavi's three-year extension of its vaccination support. "The partnership between the Government of Bangladesh and Gavi is very important for the immunisation programme."
The adage, "Health is wealth," holds true for Bangladesh. Members of the Parliamentary Forum for Health and Wellbeing are well-aware that vaccines are essential to protect the health and wealth of its people. The infant mortality and maternal mortality rate in Bangladesh have reduced significantly thanks to the immunisation programme [1]. The investment in immunisation pays off; experts calculated that every dollar spent on vaccination delivers a return on investment of 26 dollars [2].  Gavi, the Vaccine Alliance, is one of the main sponsors of Bangladesh  EPI for more than two decades and played a pivotal role in bolstering the country's healthcare system and accelerating the vaccination efforts.  The longstanding collaborations between Bangladesh and Gavi, starting in 2001, ensured the sustainability of the programme, leading to Bangladesh's remarkable success in immunisation coverage. 
Gavi's support goes beyond financial aid; it encompasses coaching, technical assistance, including the introduction of an integrated digital health information system, and assistance for Covid-19 vaccines. Gavi's work on immunisation in Bangladesh is implemented in close collaboration with UNICEF, WHO, the World Bank and National Expanded Programme on Immunisation. The Honourable Prime Minister Sheikh Hasina pays tribute to Gavi's partnership, which enabled the country to expand its routine immunisation coverage over time, including new vaccines against measles, polio and pneumonia, which were largely funded by Gavi [3].
The recent introduction of the HPV vaccine in Bangladesh, to fight cervical cancer is also an achievement, highlighting the successful partnership with Gavi according to the Prime Minister. Bangladesh's own major contribution to the immunisation programme has been focused on rolling out the healthcare system facilities and providing the manpower for its services. Gavi supports the country's next step, i.e. transition towards self-financing, among others by designing an innovative cost-sharing mechanism through which Bangladesh can purchase additional vaccines with ADB resources.  
Members of parliament echoed the appreciation expressed by the Prime Minister during their meeting with Gavi representatives regarding the extension of their collaboration. The former health minister and advisor of Bangladesh Parliamentary Forum, Dr. AFM Ruhal Haque MP said, "We have some challenges in immunisation but we have to overcome various challenges to ensure a long-term EPI programme. Bangladesh is a pro-vaccination country. I would like to thank Gavi for continuing the funding until 2030." 
Gavi's partnership extension offers extra time for a smooth transition towards self-financing. It also opens the door for further innovations in healthcare for Bangladesh, supporting its local pharmaceutical industry to produce effective vaccines and developing new immunisation intervention strategies to reach the hard-to-reach communities [4].  "We stand ready to partner with Gavi on innovation in immunisation," underlines Prime Minister Sheikh Hasina. 
References:
The Business Standard. Gavi extends aid 3 more years for Bangladesh's immunisation programme [Internet]. (2023, June 6) [cited 2023 July 13]. Available from: https://www.tbsnews.net/bangladesh/health/gavi-extends-bangladeshs-immunization-aid-3-more-years-644994
UNICEF. The State of the World's Children 2023: For Every Child, Vaccination. (2023) [cited 2023, July 14]. Available from: https://www.unicef.org/reports/state-worlds-children-2023#SOWC. Page iv.
BSS Newsagency. PM Hasina calls for ensuring immunization of all children across world [Internet]. Dhaka Tribune. (2023, June 15) [cited 2023 July 12]. Available from: https://www.dhakatribune.com/bangladesh/2023/06/15/pm-hasina-calls-for-ensuring-immunization-of-all-children-across-world
Bangladesh cuts import reliance for lifesaving vaccines [Internet]. The Daily Star. 2023 [cited 2023 Jul 27]. Available from: https://www.thedailystar.net/business/economy/news/bangladesh-cuts-import-reliance-lifesaving-vaccines-3315731