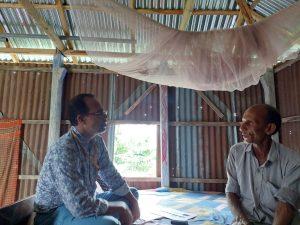 In a significant stride towards refining interventions to strengthen child immunisation in Bangladesh, a three-day training session on Human-Centered Design (HCD) was held from July 31 to August 2, 2023, at icddr,b. The training, meticulously crafted as a hybrid of online and offline sessions, marked a commendable success in bridging geographical barriers while fostering innovative learning techniques. The event was orchestrated by the collaborative efforts of Dr. Christopher Morgan and Ms. Manya Dotson from Jhpiego, USA, who facilitated virtually, and Dr. Prem Singh from Jhpiego, India, along with Dr. Samiha Younus, Bangladesh and other team members who conducted the training on-site.
Steered by the fundamental objective of equipping data collectors with anthropological and social sciences backgrounds, the training aimed at embedding the essence of HCD frameworks. These frameworks were deployed to nurture empathy, allowing data collectors to immerse themselves in caregiver and front-line service provider perspectives. With a surge of inspiration, the goal was to collectively refine proposed interventions for the Gavi country learning hub project, an initiative pivotal to immunisation enhancement in Bangladesh.
In the wake of the training, the adept team of data collectors, primed with new perspectives and insights, embarked on a series of in-person consultations. These consultations encompassed valuable interactions with fathers, mothers of children who had missed vaccination doses, and front-line service providers, notably Health Assistants. The chosen location for these insightful deliberations was the Saghata upazila of the Gaibandha district.
As the curtains drew on the consultations, the compilation of gathered information underwent meticulous analysis. The outcome will pave the way for a co-creation workshop scheduled for early September 2023. The event is poised to play a vital role in shaping the course of action as it brings together service providers, community caregivers, and data collectors. With their collective wisdom, the workshop aims to finalise the interventions that will be part of implementation research.
This initiative stands as a testament to the power of collaboration, innovation, and adaptability. It underscores the significance of fostering connections in a world where physical boundaries are increasingly blurred, and knowledge transcends geographical limitations. By leveraging the principles of HCD, the training and subsequent activities are setting a remarkable precedent in creating interventions that are not just efficient, but deeply attuned to the needs and perspectives of the people they aim to serve.