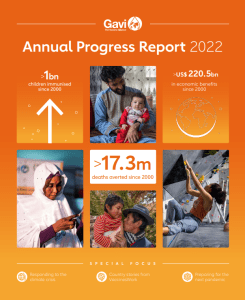 In 2022, something remarkable happened in the world of healthcare, particularly for lower-income countries. It's a story of resilience, collaboration, and commitment, highlighted in Gavi's 2022 Annual Progress Report. The report starts on a positive note, emphasising the incredible strides made in routine immunisation across 57 lower-income countries supported by Gavi, the Vaccine Alliance. The cornerstone of this achievement was the historic level of investment by these countries. They collectively contributed an impressive $162 million to co-finance Gavi-supported vaccines in 2022, the highest amount in Gavi's history. This brings the total contribution by these nations since 2008 to an astounding $1.5 billion.
Despite economic challenges, the report notes that all countries met their vaccine co-financing targets in 2022, with only three exceptions due to humanitarian crises. This demonstrates that immunisation remains a top priority and is projected to increase by more than 30% in 2023. This sustained commitment from countries had a profound impact. In 2022, the percentage of children receiving all three doses of DTP3 (diphtheria, tetanus, and pertussis) increased by 3 percentage points to reach 81% across Gavi implementing countries. This marked progress showcases the importance of country ownership and sustainability, two pillars of Gavi's approach.
But it's not just about saving lives; it's also about economic benefits. The report highlights that immunisation programs in these lower-income countries have generated over $220.5 billion in economic benefits since 2000. This is a testament to the far-reaching positive effects of vaccines on society and economies. While these achievements are commendable, the report doesn't shy away from the challenges ahead. Routine immunisation coverage remains 2 percentage points lower than in 2019, the last year before the pandemic struck. Progress varies across countries and regions. Although the number of zero-dose children dropped to 10.2 million in 2022, it's still higher than the estimated 9 million in 2019.
The report underscores that failing to consistently reach vulnerable communities will have severe consequences. Climate change, conflict, migration, and deforestation are already leading to more infectious disease outbreaks and increasing the risk of future pandemics. Jose Manuel Barroso, Chair of the Gavi Board, emphasises the importance of collaboration to maintain the positive trajectory. The potential for immunisation to bring transformative societal and economic benefits is greater than ever, but it requires collective effort to navigate the challenges ahead.
David Marlow, CEO of Gavi, stresses the need for continued collaboration and innovation. The uncertain global outlook, economic conditions, and the impact of climate change make it imperative to work together to ensure the sustainability of immunisation programs. The report also highlights progress on Gavi's four strategic goals for the 2021-2025 period:
Goal 1 – Introduce and scale up vaccines: The addition of COVID-19 and malaria vaccines expanded the Gavi portfolio to include vaccines against 19 infectious diseases. There were significant gains in coverage of vaccines like PCV3 and HPVC.
Goal 2 – Strengthen health systems: Progress has been made in equity, and health systems effectively used limited resources. However, the report emphasises the need to address population growth to fully restore coverage levels.
Goal 3 – Improve sustainability: Despite challenges like rising debt levels and global shocks, Gavi countries demonstrated a strong commitment to sustainability. The number of vaccine programs fully self-financed increased to 54 in 2022.
Goal 4 – Ensure healthy markets for vaccines: Gavi met its target of having at least ten healthy vaccine markets in 2022. The pipeline of innovative products also expanded, offering promising needle-free vaccine delivery options.
The report also issues a warning about the increasing occurrence of outbreaks in countries where they haven't been seen in years, making detection and response challenging. Timely detection and response dropped from 28% in 2021 to 18% in 2022, highlighting the need for vigilance.
The 2022 Annual Progress Report is a testament to the progress made in routine immunisation and the dedication of lower-income countries. As we reflect on this journey, it's evident that collaboration, innovation, and continued commitment are the keys to ensuring that every child benefits from the life-saving power of vaccines. The path forward may be challenging, but together, we can overcome these obstacles and build a healthier, more resilient world.
Source: https://www.gavi.org/news/media-room/new-data-highlights-rebound-routine-immunisation-underpinned-record-domestic-funding