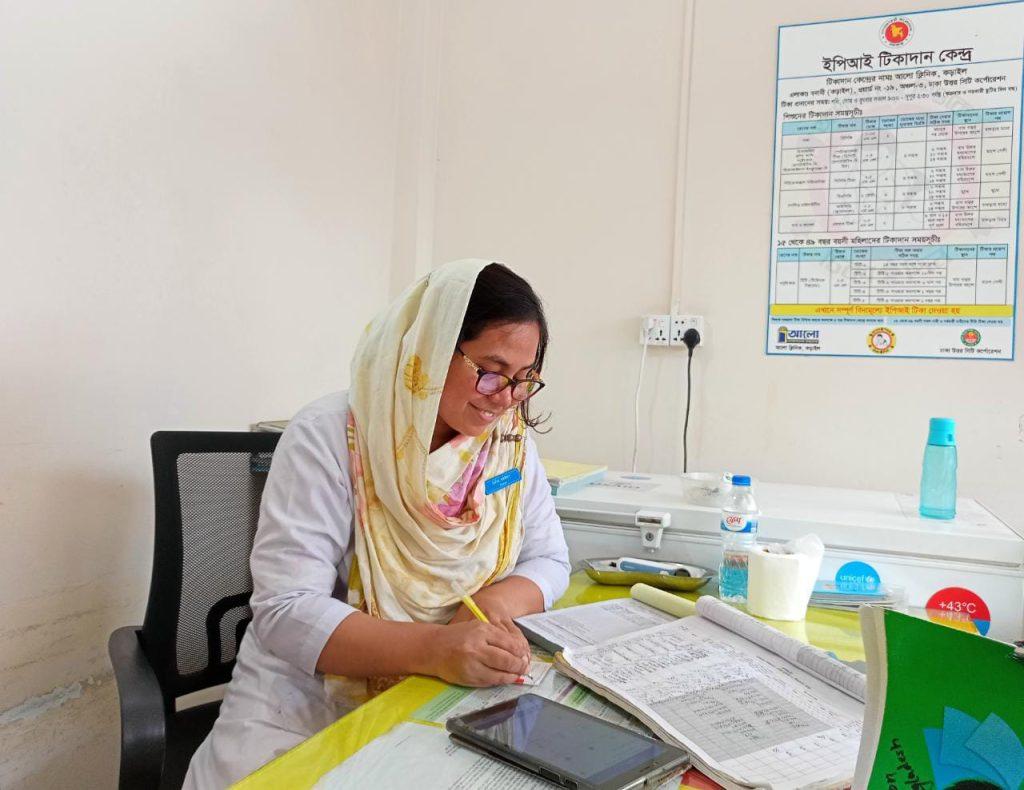 Minara Begum came with her 4-months old son Hossain in her arms to get him the bOPV, PCV and Penta-1 vaccines. It only took them five minutes to meet nurse Sylvie Akhter and receive the required doses.  In a country where patients have to sit for hours to see a doctor, this is a big deal. But this is not an exception here, this fast service is a regular occurrence at the Alo Clinic, located in the Karail Basti area of ​​the capital.
The clinic is living up to its Bengali name; the healthcare facility is working as a beacon (Alo) of hope for the 140,000 residents of the slum and surrounding areas. They are offered quality services with the support of digital technology. Although initially the clinic was targeted to serve only slum dwellers, it soon became popular among residents in adjacent areas as it provided routine vaccination services free of charge. 
"When we first started our journey, people were not that sincere about EPI's vaccination. Even if they knew, they were not aware that we are providing EPI's vaccines free of charge. Then, we used to serve 10-15 children per day." said Nurse Sylve. "But as soon as the news of our services reached every household through word-of-mouth, we started to get at least 30-50 children per day. Even people from surrounding areas started to visit our clinic with their children." 
Alo Clinic is a two-year pilot project to provide free health care to city residents, starting in August 2022. The project, funded by the Swedish Sida, provides technical assistance with the support of UNICEF. Plans are underway to apply this model approach of Alo Clinic under the Urban Healthcare scheme/department of the Ministry of Health. Alo Clinic is not only active in Karail slum, there are also Alo Clinics in other areas of Dhaka, Tongi, and Narayanganj. 
"At the beginning, we used to get some complaints or concerns from the mothers that their children were getting fever after vaccination and their husbands were blaming them." said nurse Sylve. "Then, we called their husbands and wised them up about the common side effects of vaccination, so their worries were relieved," she added. 
"I have gotten numerous urges from the mothers that, if there were evening sessions of EPI vaccination, it would be easier for them to vaccinate their children," said nurse Sylve. "Once, I even saw a 10-year-old girl coming to our clinic with her 6-month-old brother in arms to vaccinate, as their mother was busy at work. I am hopeful that once the evening session of the EPI vaccines begins, we will get a more positive response," she added. 
Alo Clinic's technological prowess is evidenced by its dual tracking system – a traditional vaccination register book provided by EPI and a cloud-based digital registration. This approach enables precise monitoring of vaccination rates, schedules, and even proactive outreach to ensure no child misses a critical dose. This also helps them to calculate vaccine demand, so that they can issue requisitions for vaccines to the City Corporation more efficiently. 
There are two male and two female MBBS doctors in the Korail branch of Alo Clinic. There is one female and one male doctor per shift, along with fourteen staff including two paramedics and a nurse work here. With the increasing urban population in the country, various diseases including non-communicable diseases are increasing. But due to the lack of primary healthcare centres in cities, the pressure of treatment in tertiary and secondary care hospitals is increasing. So, it is our recommendation that the Ministry of Health should adopt the Alo Clinic model to strengthen urban healthcare services and increase the EPI vaccination rate as well.